---
---
New
Item Condition: *New, Unopened *Minor wear/creasing on edges/corners/card *Light swirls/scuffs/defects on front plastic; Visible indentations on bottom of plastic bubble *Factory tape has come completely loose on one side of the back of the card *Light defects/scuffs on card - some only visible in the right lighting *We are as thorough as possible when detailing item conditions, however, there may be smaller, less-significant imperfections on packaging that are not specifically mentioned. All collectables come from smoke-free environment
Welcome To Trent's Galactic Emporium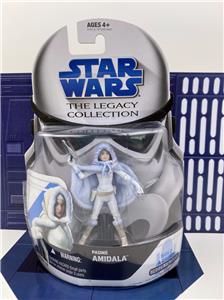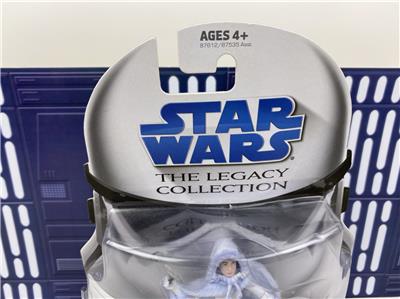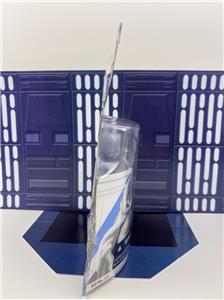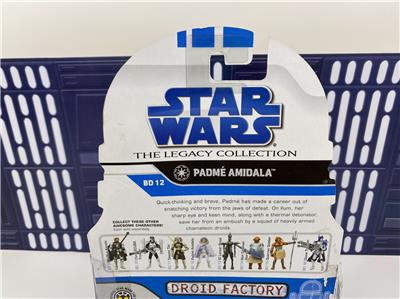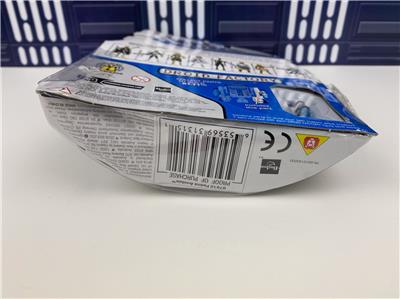 Click images to enlarge
Description
Star Wars The legacy Collection 3.75" Figure – Padme Amidala (Ilum) - BD 12 - Includes Exclusive Droid factory part for R7-T1 - Hasbro 2008
Item Condition: 
New, Unopened

Some visible wear/creasing on edges/corners/card 

Factory tape has come completely loose on one side of the back of the card

Light swirls/scuffs/defects on front plastic; Visible indentations on bottom of plastic bubble

Light defects/scuffs on card - some only visible in the right lighting 
We are as thorough as possible when detailing item conditions, however, there may be smaller, less-significant imperfections on packaging that are not specifically mentioned. 
 If you want additional pictures, please simply let us know.
All collectables come from smoke-free environment

Don't be tricked by amateur sellers listing these products when they know nothing about the actual items themselves, listing for mint when the packaging has defects, or the item isn't really in-stock. Order from us and you are 100% guaranteed that your item is in-stock and in-hand ready to ship in a secure, bubble-wrapped box within 1 business day! 
Shipping
If combining multiple auctions, shipping will be via either First Class, Parcel Post, Priority Mail, or FedEx whichever is most economical.  
About Us
WHY YOU SHOULD BUY FROM US:
When you buy from

Trent's Emporium

, you are buying from FELLOW COLLECTORS! We know and understand these items because we collect them too!

We are dedicated to the best client experience for collectors onShopify.  We pride ourselves on our listing accuracy, quick shipping time, and incredible customer service.  If ever you experience any issues, please contact us right away so we can take care of you immediately.  

Our shipping and packing is second to none, we do not cut corners to save on costs - we NEVER ship figures in bubble mailers, they ALWAYS come carefully packed in boxes. 


THE simple solution for Shopifysellers.
---